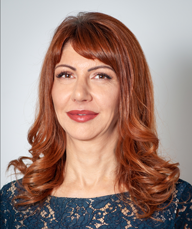 Tanya Kosseva-Boshova
Chairman, Association of commercial building owners in Bulgaria (ACBO)
Tanya Kosseva-Boshova is one of the founders of the Association of commercial building owners in Bulgaria (ACBO). Currently she is chairperson of the Managing Board of the Association. ACBO is voluntarily, non-political, non-governmental and non-religious organization founded in 2013. The members of the association are more than 30 companies, owners of commercial buildings with total built-up area of more than 500 000 sqm, located in Republic of Bulgaria.
Tanya has 18 years of experience on the Bulgarian commercial property market. She acted as partner and managing director of the largest and most successful property companies in the country – Colliers International, Landmark Property Bulgaria and European Trade Center.
Since 2017 until now Tanya is Managing Partner of Park Lane Developments. Currently she is involved in the development of class A office building Park Lane Office Center in Sofia, Bulgaria and is also accountable for the development of new business properties in Bucharest, Romania.
In 2007, successfully initiated and accomplished an amendment in the Bulgarian legislation, abolishing restriction on the term of leases in Bulgaria.
Tanya Kosseva-Boshova is the chairperson of the Board of Directors of Ladies` Forum – a nonprofit organization of professional women in Bulgaria.
She is a graduate of the American University in Bulgaria with a double major in Applied Economics and Business Administration.